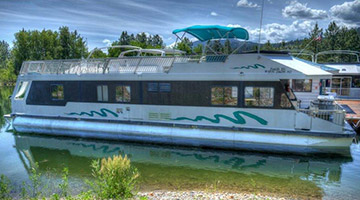 The SuperCruiser is a large boat at 62 feet and a comfortable one. Couches are practically everywhere and two of them are full sleeper sofas. These plus the dinette bed compliment the private staterooms and mean that the SuperCruiser can easily accommodate 13 people. A large galley with two refrigerators, a full oven and range, and a microwave lets you eat without fuss as well, and two bathrooms and two staircases add to the convenience.
Of course, any houseboat is recreation as well as comfort. Beyond watching the water pass below from the wet bar or the canopied deck, you can experience the lake first hand by taking a ride off the slide. An entertainment center with radio and CD player has speakers all throughout the boat, letting you listen (or dance) to music from anywhere on either deck. The top deck is either equipped with a patio set or outdoor couches, depending on the boat.
Enjoy the quiet power of our 3.0 liter SX Volvo Penta 140 HP inboard/outboard drive train. Fuel consumption is around 3.5 gallons per hour at 3200 rpm Cruise.
Length

62 feet

Width

15 feet

Sleeps

13 people

Staterooms

4 staterooms

Bathrooms

2 bathrooms

Trip Lengths

3, 4, and 7 day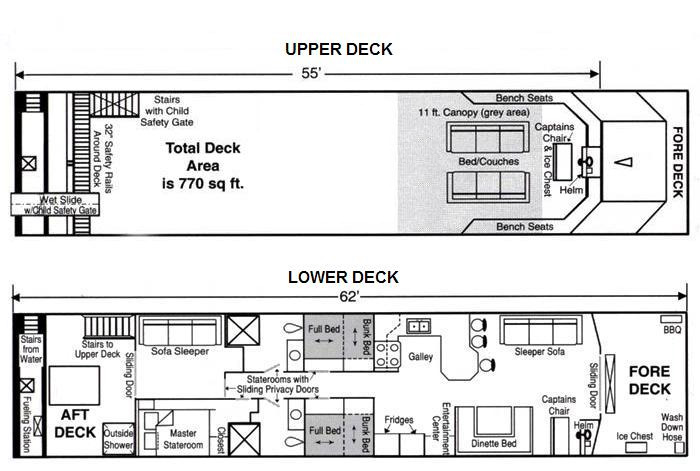 Flying Bridge Upper Deck
Bimini Cover
Remote Steering
Private staterooms with doors
Full baths
Sliding glass doors, front and back
Hot and cold pressure water
Heat and air conditioning
Microwave oven
Refrigerator/freezer
Full size kitchen range with 4 burners and oven
Blender
Automatic Coffee Maker
Toaster
AM/FM cassette CD stereo
Generator / 120 volt
Water slide
Swim steps & platform
Safety railings
Gas Stainless Steel BBQ grill
178 Quart Cooler
Marine VHF radio
Inboard-outboard single engine
Basic cleaning supplies
10 Pillows (extras on request)
Safety Features:
All boats contain safety equipment required by the US Coast Guard such as fire extinguishers, life vests, sound device, and night lights. VHF radios are also provided for communications with the marina for your additional safety and convenience.
Suggested Items to Bring:
Sleeping bags or linens
Bedding
Towels
Dish towels
Large or special cooking utensils
Chase Lounges
Paper towels*
Floor mats
Disposable paper items*
Games / Cards / Books*
Binoculars
Infant size life jackets*
Cassette tapes/ C.D.'S
Camera / film*
Flashlight
Fishing gear and bait*
Insect repellent*
Diving gear
Ski boat* / Tow rope*
Air mattress (tubes)*
Suntan Lotion*
*These items available for rent/sale at our Marina
Read this before you go out and it'll make your trip much more enjoyable!
Weekend (3 days/2 nights)
Midweek (4 days/3 nights)
Weekly (7 days/6 nights)
Prime Season
6/29-8/16
$3,295
$3,595
$5,995
Value Season
6/15-6/28 & 8/17-10/31
$2,595
$2,995
$4,095
Book now by calling us at 1-800-635-7585 or view availabilities and book online
Prices shown are subject to: Washington State Gross receipts tax at 7.6%